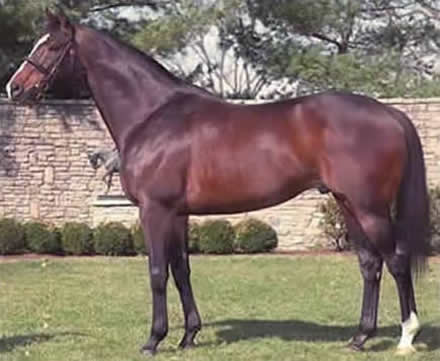 LOUIS QUATORZE
Sovereign Dancer - On To Royalty, by On to Glory
Bay Horse, 1993; 16.2 Hands
2017 Fee - $2,500 Live Foal
Payable when foal stands and nurses
Grade 1 winner of $2,054,434. Won the Preakness Stakes - G1, Jim Dandy Stakes - G2, Ben Ali Stakes - G3, Creme Fraiche Handicap - G3; 2nd in Breeder's Cup Classic - G1, Travers Stakes - G1, Hopeful Stakes - G1, Futurity - G1, Blue Grass Stakes - G2
75% winners/starters. Over $31 million total progeny earnings.
Sire of 84 Stakes horses, including two champions, two millionaires and 11 Graded winners.
Highlights include RIBO BOBO winner of Florida Sunshine Millions Spring S, 11 wins in 12 starts since January 2013 for $659,655.
REGAL WARRIOR 2nd in the Maryland Million Classic, Kingdom 3rd in Gladstone Hurdle S and Le Deluge set TWO track records at Presque Isle Downs.
Sire of Grade 1 Stakes winner BUSHFIRE(802,507), Eclipse finalist for Champion 3 Year Old Filly. BUSHFIRE has won the Grade 1 Ashland Stakes, the Grade 1 Acorn Stakes and the Grade 1 Mother Goose Stakes.
Sire of REGAL SOLO. Winner of 2010 Maryland Million and the 2008 Maryland Nursery.
Sire of Grade 1 Stakes winner REPENT winner of Kentucky Jockey Club S. - G2, Louisana Derby - G2, Risen Star S. - G3, Kentucky Juvenile S. - G3; Second in Breeders' Cup Juvenile - G1 and Travers S. - G1. Sire of Stakes winner CHOCTAW NATION ($1,185,800), San Diego Handicap - G2. Sire of 2006 Stakes winner DOCTOR DECHERD winner of Aventura S. Sire of Stakes winner SECOND OF JUNE winner of Holy Bull stakes - G3 and What a Pleasure Stakes. Sire of two year old REGAL SOLO winner of Maryland Million Nursery. Other stakes performers include: PAPUA, HERCULATED, and FAIT ACCOMPLI.
Stallion compatibility analysis available. Nominated to Breeders' Cup and Maryland Million.
Property of a Syndicate